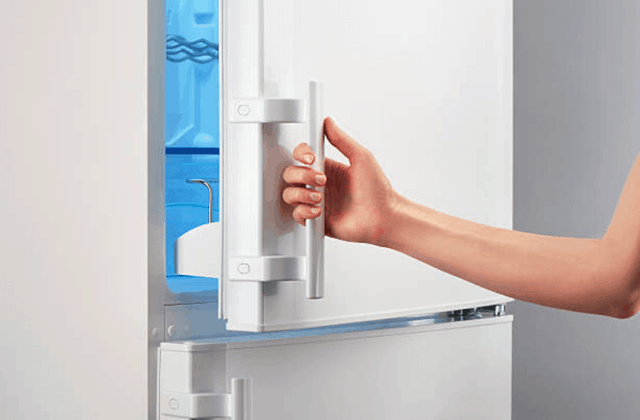 CALL TODAY:
(817) 697-7404
Your refrigerator just broke down. What do you do before the milk, meat, poultry, and vegetables start to spoil? The correct answer is, call us. We are able to fix all refrigerator issues the same day you call and on the first visit. We work efficiently and quickly to make sure your refrigerator or freezer is up and running again you need to throw out any good food!
The refrigerator is a necessary appliance and it is very disruptive to your life when it breaks down. We are your local on-call appliance repair service. We know what a problem it is to have a non-functioning refrigerator. So, we have always made it our goal to make needed repairs promptly, expertly, and cost-effectively (learn more).
You've come to the right place when you come to Weatherford Appliance Repair!
REFRIGERATOR PROBLEMS
LOUD/CONSTANT NOISES
Loud noises are the most common reason people call us for help with their refrigerator. The good part is that when we fix the loud noise we prevent other problems that will cause the refrigerator to break down completely. The most common reasons for your noisy refrigerator are a bad condenser fan motor or evaporator fan motor. When you call us we will ask you to locate the area where the noise comes from. This will help us bring the right parts and tools to make quick repairs.
WATER LEAKS
When your refrigerator leaks there is either an issue with the door latch or closure or a broken water inlet valve. Our certified repairman will bring the tools and parts needed for all major brands, determine the cause, and fix your leak on the spot.
WON'T START
Make sure your refrigerator is plugged in and the circuit breaker is not flipped off if it will not start. The two common reasons for a non-starting refrigerator are a broken compressor overload relay or a temperature control malfunction. Will fix this issue on the same day you call for help.
ICE MAKER WON'T MAKE ICE
When your ice maker doesn't make ice, call us for a same-day fix. The usual culprits are broken water fill tubes, the temperature control in the freezer, or a broken water inlet valve. And if the ice maker runs too slowly it will produce ice cubes with an odor. We will fix any of these problems on the spot!
FRIDGE TOO COLD/TOO WARM
Both too-warm and too-cold refrigerators defeat the purpose of the appliance. A broken air inlet damper is the common reason your refrigerator is too warm. When the thermistor or temperature control is not working right, the refrigerator will get too cold. The same issues and parts apply to freezers as well. We carry the parts and tools to fix these problems on all major brands and models.
BROKEN WATER DISPENSER
The refrigerator water dispenser rarely malfunctions but we still carry the parts and tools need to fix dispensers on Sears, Whirlpool, GE, Kenmore, Sub-Zero and other brands of refrigerators. The most common cause is a broken dispenser actuator or water inlet valve. This is a quick fix that we can do the same day you call.
DOOR LATCH/BULB PROBLEMS
If you have a problem with the door closure on your refrigerator, you will have leaks and condensation problems. Your electric consumption will go up a bit and food may spoil. We will examine your door, latch, seals, gaskets, and hinges and fix the problem. And while we are there, we will replace that burned out lightbulb too!